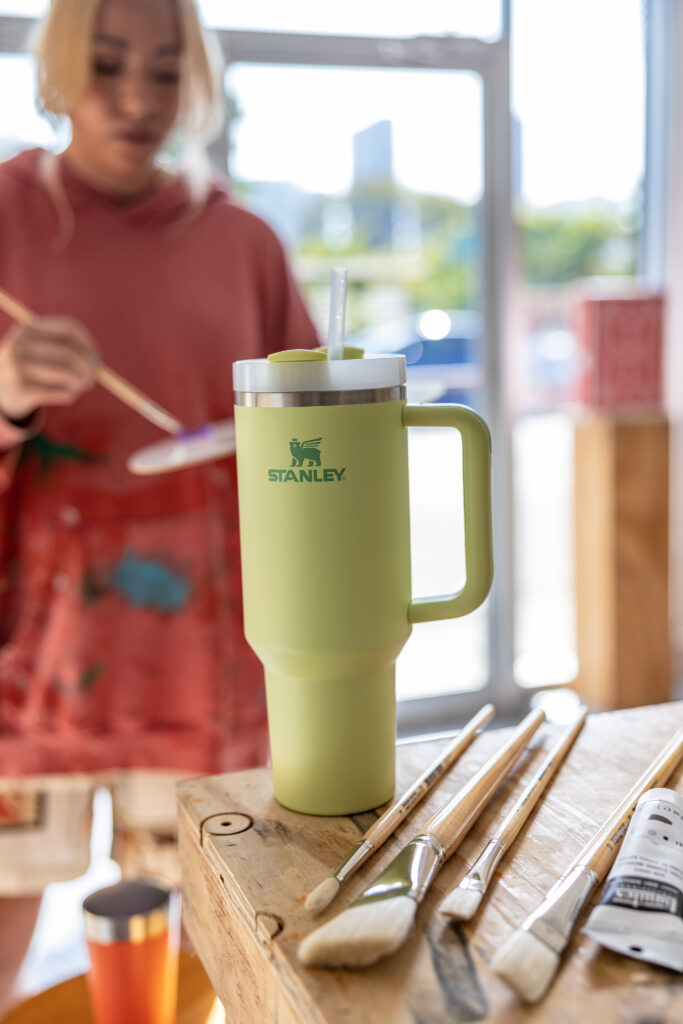 Press Release
Follett Higher Education Introduces Stanley Drinkware in Select Campus Stores
September 21, 2023
Partnership will bring the innovative food and drinkware brand's products to college campuses
WESTCHESTER, Ill., Aug. 29, 2023 /PRNewswire/ – Follett Higher Education, North America's largest campus retailer, and Stanley, hydration category leader, announced Stanley products will now be available for sale in select Follett campus stores across the country. This partnership will allow Follett Higher Education to expand campus access to the popular, reusable drinkware products. Stanley's commitment to using recycled stainless steel in its products advances Follett's sustainability efforts, aimed at supporting brands and products that demonstrate socially responsible messaging and missions that connect with campus customers.
"Stanley is a fantastic company that is committed to reducing demand for plastics and supporting sustainability. The brand is widely admired and embraced by college students and will be an excellent partner for Follett Higher Education," said Follett Higher Education Chief Merchant Jeremy Bare. "Whether students are drawn to Stanley because of the durability of the products, the company's commitment to sustainability, or Stanley's variety of vibrant colors, we are excited to deliver the products students need and want right on campus."
A variety of Stanley products are now available in 75 campus bookstores at major universities including Texas Tech, Vanderbilt, Texas Christian University, University of Georgia, and University of Florida, supporting college students' daily wellness, hydration needs and active social lifestyles. Products include the Quencher H2.0 FlowState™ Tumbler in 20 oz, 30 oz and 40 oz options, the Classic Trigger-Action Travel Mug in 16 oz, and the Classic Legendary Bottle 1 qt. Schools are seeing high demand for Stanley during the fall 2023 semester. Follett and Stanley expect continued growth and product expansion through early 2024 to bring a wide assortment to more campuses around the country.
"By bringing Stanley products to Follett campuses, we are providing students with tumblers, mugs and bottles that support an environmentally-conscious lifestyle," said Matt Navarro, Sr. VP, Global Commerce at Stanley. "More and more Stanley products are made from 90 percent recycled stainless steel and we are committed to using recycled stainless steel in at least 50 percent of our products by 2025. By doing so, we are creating a more sustainable, less disposable world for today's students and future generations."
With nearly 150 years of experience in the education industry, Follett's focus on rethinking campus retail and driving student success through affordable and equitable access to course materials has resulted in more than 1,100 campus store partnerships across the U.S and Canada. The company has been embracing more unique brand partnerships and diversifying its retail offerings in an effort to better anticipate and meet students' needs in a variety of categories, from academia to wellness to entertainment.
###
About Follett Higher Education | follett.com
Follett Higher Education is a leading educational service provider and omnichannel retailer providing students, faculty and staff, parents, and fans the course materials, learning tools and retail services needed to successfully support the academic journey. Follett Higher Education supports over 6 million students through its 1,000+ physical and eCommerce collegiate retail stores across North America.
About Stanley | www.stanley1913.com
Invented by William Stanley on September 2, 1913 (official patent date), the all-steel vacuum bottle revolutionized the way people enjoyed food and beverage. Since then, the STANLEY brand has been delivering superior food and beverageware for active lifestyles and remains dedicated to this simple promise: buy STANLEY products, get quality gear. Built for Life®.