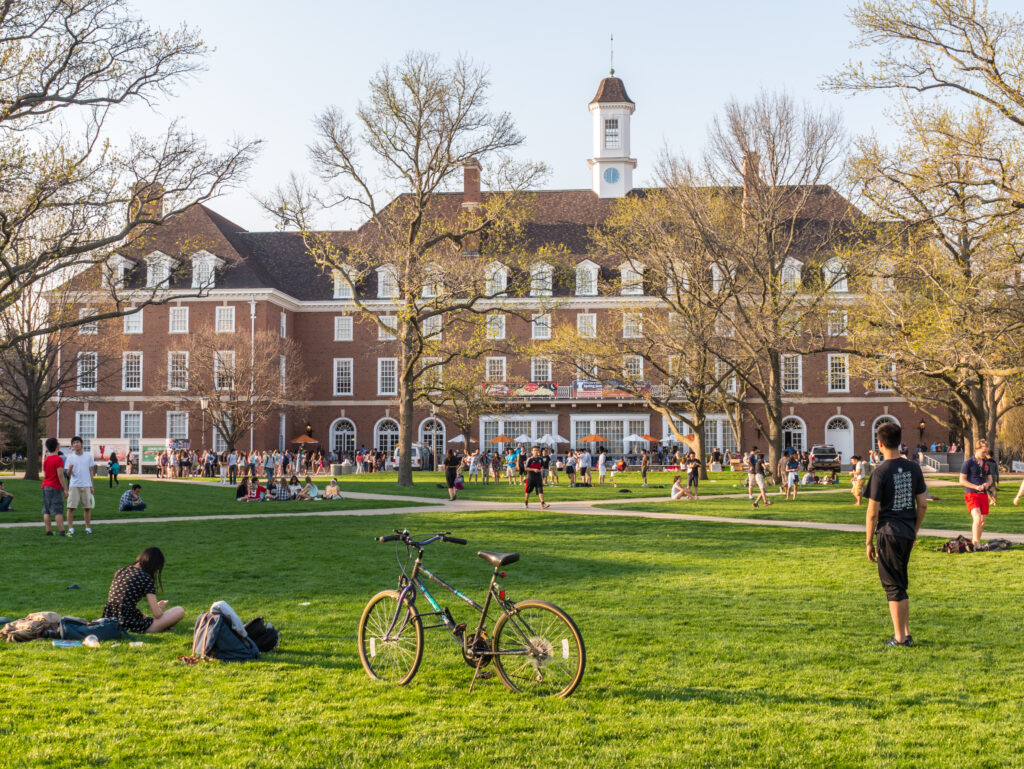 Blog
Welcome to our New Campus Partners: Summer 2023
October 05, 2023
Campuses everywhere are looking for new ways to reimagine their campus stores and inspire their communities, all while boosting revenue to put toward critical campus initiatives. From incorporating course material costs into tuition to innovating the campus store space to make it more functional in an increasingly digital age, these initiatives represent a commitment to academic excellence, diversity, and inclusivity.
We're thrilled to see how schools of all sizes and student populations are improving the experience of their campus stores to engage and delight every member of the community. Take a look at how some of our newest partners are working with Follett to bring their vision to life.
---
CUNY Borough of Manhattan Community College (BMCC) is stepping up its game with a revitalized campus store that's set to redefine the college shopping experience. Catering to the needs of today's students, the store offers seamless and cost-effective options for both digital and print course materials. But it's not just about textbooks; BMCC is committed to sourcing products from local and regional vendors, ensuring students feel a connection to the community every time they shop.
The store's commitment to staying current extends to technology, with the latest gadgets to keep students connected. What truly sets the store apart is its dedication to celebrating BMCC's faculty. From book readings to music performances, the store is set to offer a holistic community experience.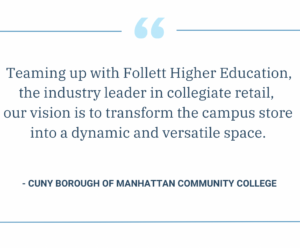 Emerson College situated at the heart of Boston, has a fresh vision for its campus store, the Emerson Emporium. Reflecting the energy of the Emerson community, its in-store and online platforms showcase an extensive collection of branded products, from college apparel to faculty-authored books. Beyond its diverse inventory, the Emerson Emporium stands as a pillar of academic engagement. Hosting both readings and author events, the store not only amplifies the remarkable work of Emerson faculty but also fosters a robust academic environment.
The Fashion Institute of Technology at the State University of New York is committed to preparing students for professional excellence in design and business. The FIT team is partnering with Follett to expand the campus store's selection of art and design supplies to meet the needs of students across concentrations and disciplines. Through collaboration with Follett's visual merchandising teams and store designers, FIT is looking forward to unveiling a cutting-edge store renovation at the end of 2023. 
Fordham University is ushering in a new era for college shopping with its renovated campus store. Providing access to both print and digital course materials, the campus store ensures students have everything they need for academic success at their fingertips. This revamped space offers more than just textbooks; it's an embodiment of the Fordham spirit.
A major

highlight of the store is its celebration of Fordham's faculty, with events emphasizing their expertise. Local and regional vendor products also find a home here, strengthening the store's ties to the surrounding community. Additionally, the space is designed to host a range of community-centric events.
Manhattan College is committed to a student-centric approach at every level of campus life and brings the right blend of merchandise, technology, and innovative solutions tailored specifically for the Manhattan College community. An extensive range of cost-saving course material options, including a text rental program that offers up to 80% savings compared to buying new books, is now available to students. The new campus store also includes an online component that will feature a broader selection of merchandise to celebrate school pride.
Massasoit Community College is enhancing its retail experience by introducing an expanded selection of clothing and gifts. Collaborating with partners at UMass Dartmouth, the college is rolling out an online solution through Follett On Demand.

This online campus store experience not only broadens the merchandise assortment but also ensures a streamlined shopping experience for students.
With benefits like free ground shipping and affordable course material options, Massasoit aims to make the academic journey hassle-free.
Mohave Community College is pioneering a new direction in student services with the introduction of the Bighorns Spirit Shop, its online bookstore platform. Recognizing the changing demands of education, Mohave has transitioned from traditional brick-and-mortar bookstores to an efficient online solution. This digital shift not only ensures cost-effective access to course materials but also broadens the range of resources available to students. Additionally, Mohave has exciting plans on the horizon for the Bighorns Spirit Shop to add a range of spirit wear and custom gifts . This move promises to provide students with a one-stop shop for all their college needs, from textbooks to apparel.
Mt. San Antonio College (Mt. SAC) is continuously evolving to enhance the educational experience for its students. As part of its commitment to accessibility and affordability, the college is expanding its range of Open Educational Resources (OER). This allows students a broader spectrum of learning options tailored to their needs with a renewed emphasis on affordability and accessibility. In addition, the Sac Book Rac is unveiling an expanded assortment of merchandise and course materials to further enrich the on-campus shopping experience.
Robert Morris University is taking bold steps to enhance its campus offerings. With a focus on a digitally-driven Equitable Access program, RMU is ensuring students have accessible, convenient, and affordable access to all their course materials. The RMU Book Bundle provides students with textbooks that are directly shipped to their homes, eliminating on-campus pickup.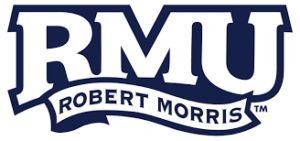 Not only will the store spotlight spirit wear and student essentials, but it will also host dynamic pop-up events, fostering community engagement. This transformation is designed to make the store a welcoming hub for students.
Thanks to all our partners for the work you're doing to elevate the collegiate experience for students. Read more about initiatives from some of our newest partners below!